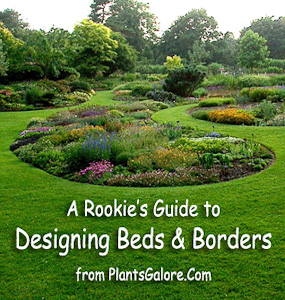 Welcome to the wonderful world of ornamental plants. In this eBook, we will try to help you begin to understand the process of arranging these plants for their best effects in your home landscape. As the title implies, this is aimed at the "Rookie" or novice gardener who wants to understand the basics of the landscape design process.
Anyone who visits a landscape garden can form an opinion about what they like or dislike about it. This eBook will teach you concepts and terminology so you can describe WHY you find a garden or grouping of plants either pleasing or not so pleasing. That way, you can reproduce the "good" and avoid the "bad" in your own beds and borders.
Whether you decide to design your own landscape or have someone else do it for you, a thorough grounding in a few basic concepts will put you well ahead of the general gardening public. Plus, it will help you to have some fun along the way.
This guide will describe a "typical" design process that might be followed while developing home landscape beds and borders. Obviously, each project will present unique situations and challenges, but there are several basic steps that are common to all projects.
We have divided these steps into the following chapters:
Introduction to Beds and Borders
Chapter 1 – Early Planning Decisions
Chapter 2 – Preparing a Baseline Map
Chapter 3 – Making a Landscape Inventory
Chapter 4 – The Functions of Plants in the Landscape
Chapter 5 – Choosing a Garden Style
Chapter 6 – The Art and Science of Garden Design
Chapter 7 – Design Criteria
Chapter 8 – Color Combinations for Beds and Borders
Chapter 9 – Unifying the Landscape Design
Chapter 10 – Beds and Borders as Theater
The "A Rookie's Guide to…" eBook series is designed to provide the hobbyist gardener with helpful, practical tips for success in the home landscape. Each one will concentrate on the major issues, gardening techniques and horticultural knowledge needed to help you avoid common pitfalls. Every eBook is filled with illustrations, pictures and hyperlinks to our PlantsGalore.Com and HostHelper.Com websites to help you expand your knowledge on the topic.

The information provided is based on university generated research and over 40 years of practical gardening experience by the author, Ralph Heiden aka Mr PGC. He has an MS degree in ornamental horticulture and has taught horticulture and gardening classes and seminars to thousands of homeowners, hobbyists, hostaphiles and Master Gardeners over the past 3 decades. He is also an avid photographer with a very large collection of plant and garden images from the U.S., Canada, Western Europe and Great Britain.